Your members' faces will light up with joy when they visit the church Web site on their birthday and see a special greeting for them.

Add this easy-to-use feature to your church's Web site in just minutes, and members will instantly see who has a birthday coming up. Then they can send an e-mail greeting with a few clicks of their mouse. It's a great way to promote member involvement and interaction.

Create interest in your Web site and encourage repeat visits.
Spread cheer by allowing members to share greetings they may have otherwise overlooked.
Easily add birthdays, and keep them organized in one location. You can even let others add birthdays by giving them access. With the time-saving NEW "BULK UPLOAD" FEATURE, you can add multiple names and birthdays at once, making maintenance fast and hassle-free.

Let members know they're remembered on their special day.
Build a caring and celebratory community.
Integrate it directly into your Web site by choosing the fonts, the graphics and background colors yourself.
Give church members an easy way to send a personalized birthday greeting of their own.
Have fresh content on your site without hours of programming.
Promote member involvement and interaction.

At only $9.95 for the entire year you'll never have to worry about breaking your budget. Sign up TODAY and start celebrating!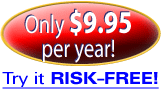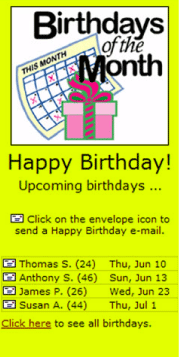 "I love [My Church Birthdays] … !!! NOW you have ME going! I'd like to have a component for baptismal anniversaries AND one for wedding anniversaries. Since I'm not a Web site builder, this is so easy…. You've started something great for our Web site — THANK YOU!"


—Judy


Evansville, IN